Three types of input system enable to measure various phenomena
Input system 1 : Multifunction analog input ports
Contains a highly isolated input system which ensures that signals are not corrupted by noise from other channels. The GL840's inputs are suitable for combined measurements
from voltage, temperature, humidity, logic, and pulse signals.
The standard configuration has 20 analog input channels. It is expandable to 200 channels by adding optional 20 channels extension terminal base unit (B-566) and input
terminal units (B-564 or B-565).
Withstand voltage & Accuracy
Multi-input type (B-564)
Withstand-voltage type (B-565)
Voltage
Input voltage range
20 mV to 100 V
20 mV to 100 V
Max. voltage (Input - GND)
60 Vp-p
300 Vp-p
Temp.
Thermocouple
R, S, B, K, E, T, J, N, W (WRe5-26)
RTD (Resistance Temp. Detector)
Pt100 (IEC751), Pt1000 (IEC751), JPt100 (JIS)
Accuracy
Voltage
± 0.1% of F.S.
± (0.05% of FS + 10μV)
Temperature*
± 1.55 ºC
± 1.1 ºC
* Accuracy rating for K-type thermocouple at 100˚C includes reference junction compensation. Accuracy varies by temperature levels and thermocouple types.
The following shows how a standard configuration is expanded to more than 40 channels
GL840 is Graphtec's newest Multichannel Standalone Data Logger
GL840 Comes Standard with:
WLAN capable using optional* WLAN Unit B-568 for remote monitoring and datalogging
7 inch wide TFT color LCD screen
Three types of power source: AC, DC*, rechargeable battery pack*
Extended memory capacity using SD cards (SDHC compatible up to 32GB*)
Max sampling interval up to 10ms
Expandable up to 200 channels
Access GL100 sensors and adapters
Flexible input system for applications such as RTD, T/C, humidity and more
Smartphone, remote access monitoring
*Optional accessories not included
***All units include standard manufacturer's certificate for factory calibration***


Two separate GL840 models available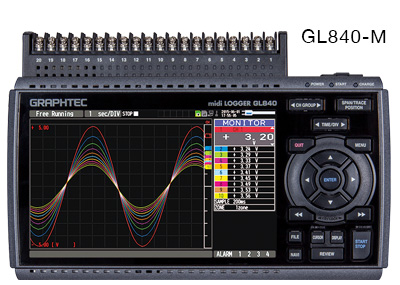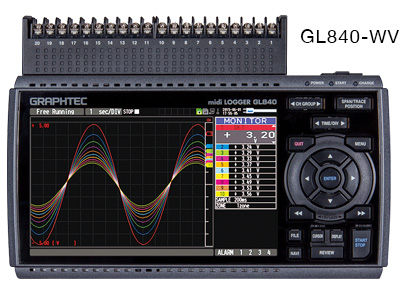 Max Sampling Interval of up to 10ms

GL840 series carries two SD memory card slots
SDHC up to 32 GB supported. Captured data can be stored in GBD (Graphtec Binary Data)
or CSV file format.
Capturing time* (when all 20 analog channels are being used with Logic/Pulse inputs turned off).

*Figures are approximate. File size of captured data is 2GB in GBD or CSV file format on this
chart. Sampling interval is limited by the number of channels in use
(10ms:1ch, 50ms:5ch, 100ms:10ch). Limited sampling speed is available
when digital sensors and GL100-WL are used as a remote monitoring device.